Home › Resume Templates a-i › Executive Assistant Resume Sample
Executive Assistant Resume Sample
---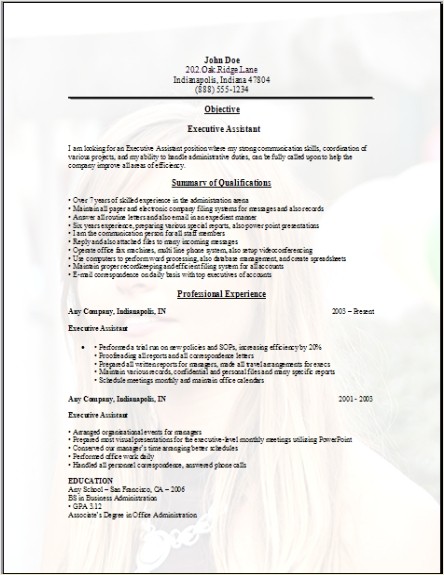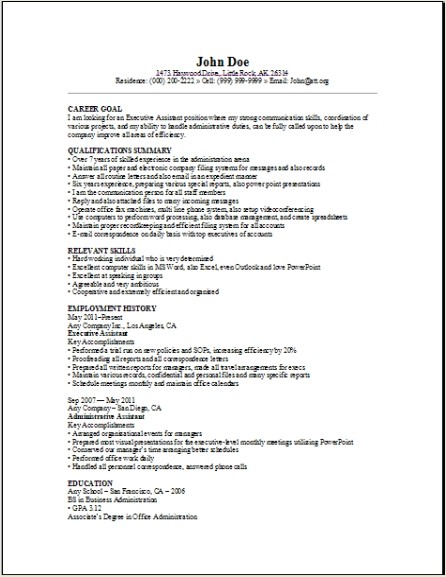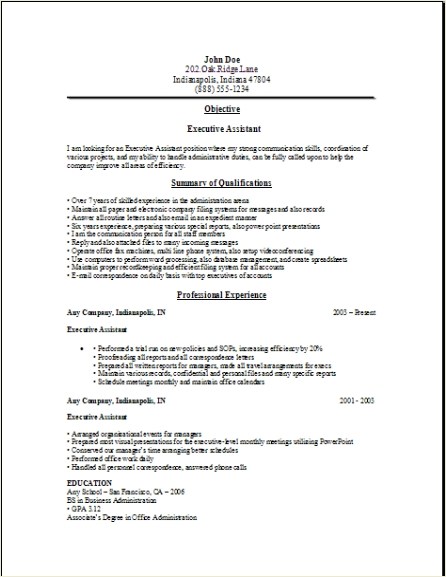 ---
The executive assistant resume sample one, you use here, should represent your own professional skills you have attained with your experience as an administrative assistant. Your unique resume that you create with this sample resume should be used to best describe your own past experience you have in this field, plus, you will want to state all of your achievements.
In fact, make sure you get a copy of the job description the employer put out for this position. Your job will be to use this sample resume for executive assistant, and make it your own by matching all the employers specific skills they have listed on the help wanted ad they posted. This is the best way you can use your time to get an interview for this position. Put this on your must do agenda, increasing your odds for the job interview.
Job Description
An Executive Assistant Secretary performs a lot of routine clerical and also organizational tasks. This person will organize files, use computers to draft messages, also schedule appointments, mainly they will be the support person for the rest of the staff in the office setting. Be sure to add all of this information to your executive assistant resume sample.

They will also use different computer softwares to create unique spreadsheets, use it to compose messages, help manage databases, plus they will produce many presentations, specific reports, and various documents. They probably will meet with vendors, also purchase supplies, they will manage the stockrooms and or the corporate libraries, and retrieve information from many different sources. Specific job duties always vary by the experience the person has, the job title the employer puts out, and there are also specialty executive assistants.
Add us now -- helps you find us again later.
Executive Assistant Resume Sample
---
John Doe
1473 Haywood Drive, Little Rock, AK 26314
Residence: (000) 200-2222 » Cell: (999) 999-9999 » Email: John@att.org

---
CAREER GOAL


I am looking for an Executive Assistant position where my strong communication skills, coordination of various projects, and my ability to handle administrative duties, can be fully called upon to help the company improve all areas of efficiency.

QUALIFICATIONS SUMMARY
• Over 7 years of skilled experience in the administration arena
• Maintain all paper and electronic company filing systems for messages and also records
• Answer all routine letters and also email in an expedient manner
• Six years experience, preparing various special reports, also power point presentations
• I am the communication person for all staff members
• Reply and also attached files to many incoming messages
• Operate office fax machines, multi line phone system, also setup videoconferencing
• Use computers to perform word processing, also database management, and create spreadsheets
• Maintain proper recordkeeping and efficient filing system for all accounts
• E-mail correspondence on daily basis with top executives of accounts

RELEVANT SKILLS
• Hard working individual who is very determined
• Excellent computer skills in MS Word, also Excel, even Outlook and love PowerPoint
• Excellent at speaking in groups
• Agreeable and very ambitious
• Cooperative and extremely efficient and organized

EMPLOYMENT HISTORY
May 2011–Present
Any Company Inc., Los Angeles, CA


Executive Assistant


Key Accomplishments
• Performed a trial run on new policies and SOPs, increasing efficiency by 20%
• Proofreading all reports and all correspondence letters
• Prepared all written reports for managers, made all travel arrangements for execs
• Maintain various records, confidential and personal files and many specific reports
• Schedule meetings monthly and maintain office calendars

Sep 2007 — May 2011
Any Company – San Diego, CA


Administrative Assistant


Key Accomplishments
• Arranged organizational events for managers
• Prepared most visual presentations for the executive-level monthly meetings utilizing PowerPoint
• Conserved our manager's time arranging better schedules
• Performed office work daily
• Handled all personnel correspondence, answered phone calls

EDUCATION
Any School – San Francisco, CA – 2006
BS in Business Administration
• GPA 3.12
Associate's Degree in Office Administration


---
Training - for Executive Assistant Resume Sample



High school graduates will be able to obtain basic office skills, computer skills, and also grammar skills in many various ways: you can use vocational programs, also technical schools, or some community colleges. You will want to make sure you have accomplished some formal training in the areas of computer and office skills.



Look for executive assistant jobs at these places near you.



Executive-in manufacturing corporations
Legal Facilities
Medical Centers
Working for sales executives


You might also like:
Executive Assistant Cover Letter Sample
Back to Executive Assistant Resume Sample top of page
Back to Home Page Free Resume Templates.
Add us to favorites
---
Copyright © 2008 - resumes-cover-letters-jobs.com by: Joe Thurston
All Rights Reserved!
Content and photos may not be reproduced in any way without our permission.
Custom Search
Post Your Comments

---