Resume Cover Letter Format
---
July 29, 2014 | 10:37 a.m. EDT by Joe Thurston

So you might be asking yourself why do I need to know about a

resume cover letter format

. Well when you use a properly formatted cover letter, you are showing the employer not only are you interested in the job, but you also have a professional presence about you.

With the great deal of cover letters they receive, quite often they are unruly in their information. Make sure to read further so you at the very least you have a great cover letter that represents you well.

You need to do a great job writing you cover letter as it will help you stand out if done the right way. You will need to make yours very special.

That is where we come in to help you by supplying you with the right format. I will also give you an example of a pre filled

resume cover letter format

. The simple and most effective way for making sure you have a professional layout when creating your own cover letter.

...helping you through this process is what I do, free for our visitors.

Employers are very busy and a great cover letter should shout (

select me

). This means getting the employer to see clearly what you can do is better than any others. Make them see you are unique and so are your skills. Look at my resume for more detailed qualifications. So here are just a few guidelines we think you should use when creating your own killer cover letter today:


**********Add us today to your favorites**********
Cover Letter Header…
Beginning at the top left side of your letter, start with your name and your complete mailing address followed by your phone number; then you will want to space down twice, and then go ahead and type out your current date in a separate line. Next space down twice and add the recipient name, their title (if any), and their completed mailing address.

All the header details should be located at the top of your page, making sure they are all double checked to be correct. Follow this format below when creating your own cover letter;

• Your Name
• Your Address
• Your Phone#
• Date
• Mr. /Ms. (Name of The Employer)
• Title
• Company Name
• Their Address
• Dear Mr./Ms. (Their Name Here Again)

When you are writing your greeting (Recipients Name), do try to keep it formal as this is the best policy. Don't think about using the person's first name. Instead, Ms., Mr., Dr. or whatever their professional title would be, or if military is involved use their rank along with the persons last name. If you absolutely cannot find out the persons name, then to Whom It May Concern would be your last resort.

....Using the proper format in your heading will get your letter to your intended recipient faster.
Cover Letter 1st Paragraph...

You should start out by being professional and state your business.

Quickly indicating to the person the job that you are applying for.



Let's try to keep this initial paragraph short making it about 4 or 5 sentences if possible, and also cover all these items:

1. Your reason you are writing and which job you want to apply for. You should keep this quick, very simple but catchy.

2. Now is the time to drop names of any people in the company that you know, e.g. "Jimmy John in your production department really encouraged me to apply for this position as he really believes I possess the skills needed to succeed in this position."

3. Give any compelling reasons you have applied for the position or company. Keep it short and sweet, with the view to inspire the reader.

If you would like to look at more cover letter samples where you can view the whole letter so you can dissect the paragraphs to see more of what we are talking about, then you might like to go ahead and visit our Cover Letter page to look at some more closely!!

... Our resume cover letter format samples are really a powerful tool. Getting this letter right the very first time, can possibly get you the job interview you want... Now this is Very Important: Make sure every letter you send out is targeted only for the job you're applying for...

... As Always, use every inch of this letter to get them to look at your resume.

Cover Letter 2nd Paragraph



In this paragraph give the employer reasons why you would be the person for this job.

Some examples are you should list your best qualifications, any experience you may have, and any specific things you want to point out, such as your availability.

You should highlight how you learned your skills and characteristics for the position. You need to make this section of the cover letter all about showing the employer you meet every criteria on their job description, what skills you can offer, and you're the perfect candidate for this job.



So how will you achieve this result?





1.

Begin with a small introduction that is focused on your specific achievements, then compare these qualities to the job you're applying for showing you're a good match for this position.



2.

The rest of this paragraph should be used to support your claims. So now you should present your qualifications showing specific positions and responsibilities ect....



3.

Try keeping this paragraph excitable and impressionable, don't bore anyone. Don't brag too much on one accomplishment, keep spelling them all out equally, coming across that all your accomplishments are equally important.



4.

Use your final sentence with psychology, by repeating your job title and your company to enhance in their mind, so they will remember you when they put your letter down.

...As always, use every inch of this paragraph showing your skills and experience.



Cover Letter Last Paragraph

This is the paragraph I would use that will let them know you are looking forward to an interview. Also you would be glad to be at their office at their convenience.

Then mention your contact information with your telephone number that will get answered. Also point out your resume is more detailed and attached!!

Don't forget this most important part. Thank the person who is reading your cover letter.

Don't think about ending your cover letter by saying you that they will get in touch with you. So let them know the exact time and day, and also how you will contact them. When you make that statement, make sure you do it!

Your creation possibilities are endless, your imagination is the key.


Cover Letter Closing!!!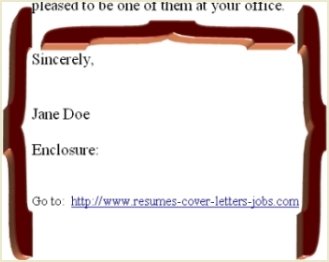 The perfect cover letter in its closing paragraph would ideally state you are the one who will contact them at a future date and time. But I think it is also a great idea to even offer them another option. Contacting you!!

The closing will also contain a final salutation, which there are many of.

Sincerely, Respectfully, Best regards, Cordially, Thank you.

Make your best choice and stay with it, let your personality guide you on this one.

On a final note: Your resume and cover letter should both printed on professional letterhead.

A cover-letter closing paragraph should leave them with the idea that they really need to read your resume.

Almost all of our Resume Cover Letter Format samples on this website use four or 5 paragraphs. Take a look as you browse around our cover letters.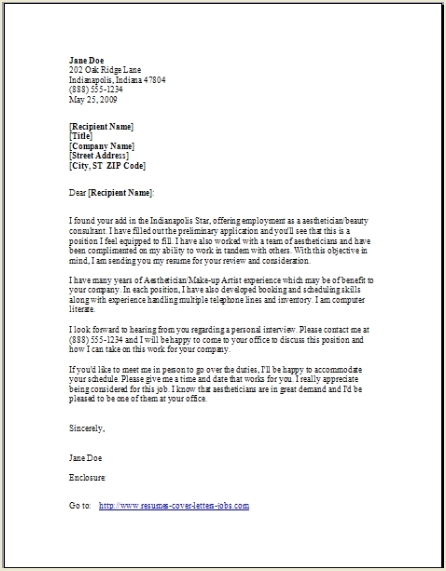 ...You can easily edit in MS Word all our cover letters on your own computer very easily...

It is all free, all the time, visit anytime you like. We are here for you 24-7. Always adding what you ask for and also many other helpful articles. I wish you the best.






Resumes starting with A-I visit here: resume download pages


Resumes starting with J-Z visit here: resume download pages

Back to Resume Cover Letter Format TOP

Back to Resume Articles



Please check our many other pages for lots more helpful information and resume help.
Back to
Free Resume Templates
home page to find your new resume.

*****Please Bookmark Our Helpful Site*****
---
Copyright © 2008 - resumes-cover-letters-jobs.com by: Joe Thurston
All Rights Reserved!
Content and photos may not be reproduced in any way without our permission.
FREE UPDATES

---